Image reproduced with permission of There's A Book
28-30 September
I have decided to partake in some of the mini-challenges in this Bloggiesta! This post will be updated throughout the weekend as I participate in new ones, as I would like to share with you what I have done!
Here is the link to a full list of all of the mini-challenges:
September 2012 Bloggiesta Mini-Challenges @ It's All About Books
. There were also some really helpful mini-challenges from this years previous Bloggiesta, if you would like to have a look through those (obviously you cannot participate, but they are useful)
Flashback to April 2012 Mini-Challenges @ There's A Book
.
Blogging Notebook and Calender @ Love, Laughter and a Touch of Insanity
I have selected
Option 1 (Calendar - aka blog organization)
:
1. Print an October Calendar
2. Jot down your regular blog features or posts you already have planned
3. Next fill in some posts you would like to write. If you don't want to commit to a day, list these in the white space of the calendar (I do this on the back, you can do this on the front so it's visable).
4. If you still have big holes and want to post more, brainstorm a few more ideas and write them down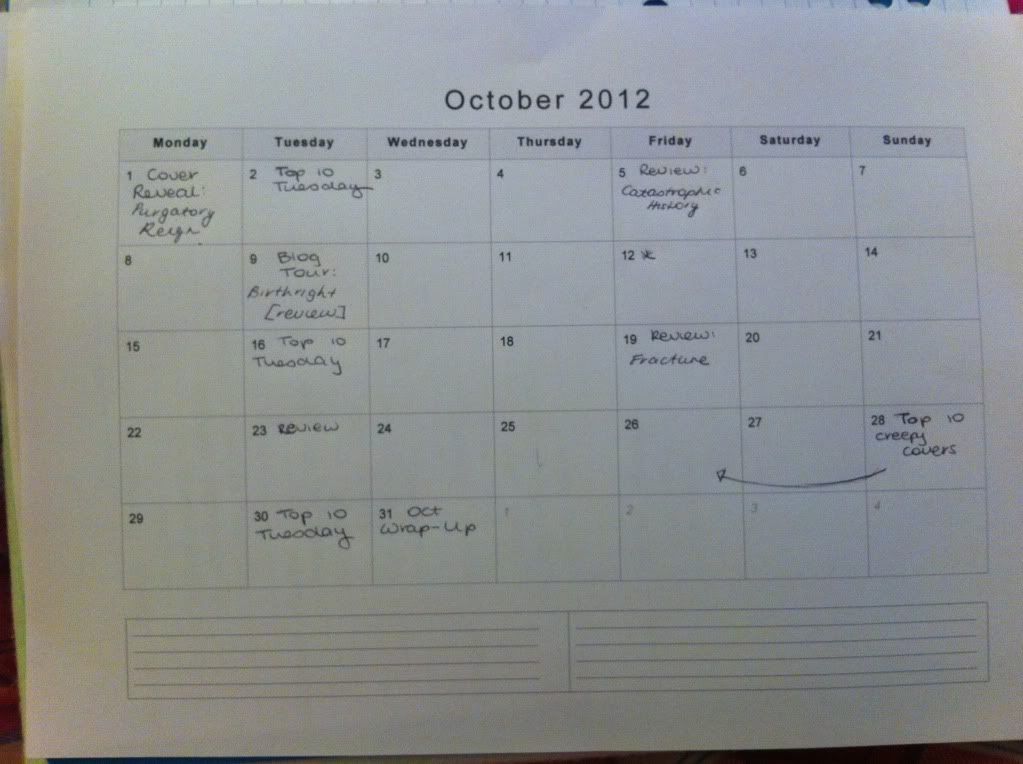 This month is a little hectic, and things will probably change around, but I am hoping to post at least every Tuesday and Friday :D
20 Discussion Post Ideas @ Girl xoxo
There are so many amazing discussion ideas! Take a look yourself. They are all for book lists, and I will definitely keep these in mind. In particular, I loved:
10 Covers That Terrify
5 Books With a Love Triangle Where the Right Guy Wins
10 Authors I Read For the First Time in 2012 and Want to Read More From
I am hoping to use these within the next few months, as well as
possible
do a series in December of Top 10 or Top 5 book lists for 2012
Step Out of Your Comfort Zone @ Jen Ryland
So for this mini-challenge, we are encouraged to step out of our comfort zone and do something for our blog that we have never done before or are hesitant about. Here are some of the suggestions:
Read something outside your preferred genre
Take something that you're passionate about and incorporate it into your blog
eg. Create an outfit inspired by a book
Book-inspired nail art
Resolve to do some blog-related thing that you've been avoiding
So I have taken note of some of the ideas such as book-inspired outfits, nail-art, food, etc. and I hope to use those in the future because they sound really fun! In addition, I am going to give another genre a try. Adult literature isn't too foreign, but I am thinking maybe a Classic? I don't usually read Classics and those that I have read have been with school and therefore I did not enjoy them as much as I may have if it were just for fun (some however I am certain I will never ever learn to like).
Grade Yourself @ Smash Attack Reads
This challenge involves signing up at
HubSpot
to "grade" my site. It gives you hints and tips for helping increase readability and traffic for your site. Take a look yourself and see how your site grades! Here is some information about mine: